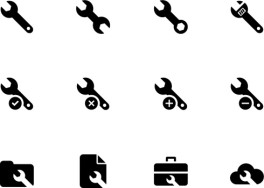 We don't like to struggle. At least I don't know anyone that does. We are wired to resolve struggles.
We see a problem and we want to find a way to solve it. Many times this is helpful and a needed response. It's part of why we continue to grow individually and in the world around us.
But at times, our fix it mentality gets in the way of growth.
When we see kids struggling to learn something it can be easy to rush in and do it for them. I remember teaching my kids to tie their shoes. It often took everything I could not to just do it for them. And often I did do it for them and robbed them of the opportunity to grow.
We know this and yet often we get in fix it mode with the people we love. It's uncomfortable to watch people struggle. We often want to fix it so that we aren't uncomfortable anymore.
Our spouse struggles in their relationship with one of the kids. Or we see a co worker struggling with something we can fix. Or a friend is going through a difficult time and we just want to "solve the problem" for them.
Two things happen when we decide to be fixers in these situations. First, our spouse, co worker, or friend misses the opportunity to grow in their own process. And second, we take responsibility for things that aren't ours to do.
Occasionally, being Mr. or Mrs. Fix It is not going to hurt anyone or anything. But if this is a pattern in our lives it leads to a host of interpersonal problems.
Two questions to challenge yourself with when you get in fix it mode:
Is it mine to fix?
Am I robbing someone else of the opportunity to grow?
Answering these two questions can go a long way toward developing healthier relationships with those around us. And healthier relationships lead to the life we want to live. Don't let your inner Mr. or Mrs. Fix It rob you or those around you of that life.
/*?>*/?>