My Anxious Thoughts and White Bears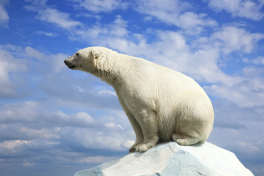 I remember at nine years old thinking the thoughts. It was 4th grade at Riderwood Elementary School. I didn't want to go to school. I was afraid.
I didn't have language to describe the anxiety I had. I just knew I was afraid and no one else was. I was defective.
So started the struggle with my anxious thoughts. I tried to get rid of the thoughts. I told myself that the thoughts were silly. I told myself there was nothing to be afraid of. I worked hard to not think about whatever was the current cause of my anxious thoughts.
The strategies varied, but the goal was consistent:
STOP FEELING ANXIOUS.
But time after time, the thoughts came back. Then I felt like a failure not only because I was anxious, but also because I couldn't control my own thoughts.
Dostoyevsky talked about the white bear in his writings 151 years ago. In 1863, he wrote this in Winter Notes on Summer Impressions:
Try to pose for yourself this task: not to think of a polar bear, and you will see that the cursed thing will come to mind every minute.
Dostoevsky inspired Dr. Daniel Wegner to study thoughts. Wegner asked people to verbalize their thoughts while not thinking about white bears. When they did think about white bears he asked them to ring a bell. On average participants thought of white bears more than once per minute.
Wegner concluded that the brain will work hard not to think about an unwanted thought, but will keep checking for the unwanted thought, which will ultimately produce the thought again.
Nine year old Elise Rittler had no defense against her anxious thoughts. Any one of us can prove what Dostoevsky and Wegner knew: we can't really control our thoughts.
What we can do is change our relationship with our thoughts. We can learn to observe our thoughts without judging each one. We don't have to overreact to our thoughts. We can learn to let go of some of our thoughts. We don't have to get caught up in every thought.
We just can't stop thinking about white bears.
/*?>*/?>