My Deep Desire for Connection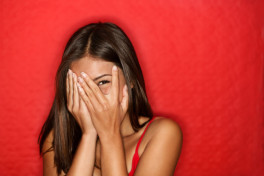 I'm drawn to people that are real. People that let you see the good and the bad. People that are ok with revealing their flaws and failures. I'm touched when I get to see behind the curtain.
Real connections happen when we share the hurt and are vulnerable. It is the essence of being human and it's an honor to see people as they really are.
I'm also painfully aware of how often I am not like that. I want to be but it is risky and many times it is easier to just hide.
It is scary to let people in.
I feel naked when I do. Letting people in stirs up fears that I will be rejected or judged. The fear doesn't care if it is a new relationship or old. It can happen anytime.
Sometimes it's those closest that carry the most risk. One of my kids points out something about me that is true and embarrassing to me. Or my husband says something that touches a deep fear. I can get defensive quickly.
I used to think that as I matured I would no longer worry or fear rejection. Maybe that will happen some day, but I haven't experienced that yet. My worry and fear is still alive and well.
What I have noticed is that my response to the fear has changed. I can tolerate the scary feelings and continue to relate honestly with those in my life. There is still tension. But I can decide to continue to take risks in relationships.
I know that unless I keep reaching for authenticity and real connections with others I won't experience the life I want to live. The best relationships happen when I'm willing to risk and move toward others even when I am afraid.
I may be rejected or judged. If I'm going to have authentic relationships that's a risk I am willing to take.
/*?>*/?>