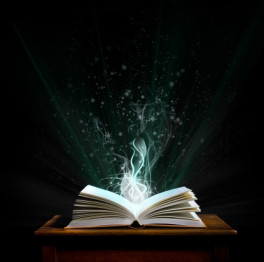 My mind gives me a running commentary on my life. All day long, and sometimes all night, it tells me a story about what I am experiencing. It's like a sports announcer giving play by play on my entire life.
I come home to dishes and mess all over the kitchen and my mind tells me how irresponsible my children are or tells me about my shortcomings as a parent. A few minutes later my neighbor compliments my son and my mind tells me how great he is and what a stellar job I've done raising him.
My mind is a mental roller coaster creator. Sometimes you go up, sometimes you go down, but it is always going somewhere.
I can feel whipped around by my mind when I follow each storyline around and around. I can be encouraged and happy when it is writing a fairytale or defeated and frustrated when it's writing a horror story.
At times, I can be completely unaware of how the story is making me a hero, a villain, or a victim.
I've learned a lot of about how our minds shape our stories by studying Acceptance Commitment Therapy (ACT as it is known). One of the fundamentals of ACT is fusion vs. defusion with our thoughts.
Fusion is where I am totally caught up in the story my mind is writing. Defusion is when I can separate from my thoughts and get some distance from the story my mind is writing.
Russ Harris describes fusion vs. diffusion like this:
When we talk about being fused with your thoughts what we mean is there is no separation. You are totally caught up in them, entangled in them, absorbed in them, lost in them. In this kind of state your thoughts have a massive impact and influence over your behavior.

By defusion we mean you start to separate or detach or disentangle or unhook yourself from your thoughts. You start to get some distance or some space.
Harris goes onto describe that fusion with our thoughts is like when our hands are right in front of our face. It's impossible to fully engage with our lives when our hands are blocking our view.
Defusion is learning how to lower our hands from covering our eyes to resting in our laps. We don't get rid of the thoughts or even change them, but defusion allows us to get some space from the stories that our minds manufactures so that we can make choices about how to let those thoughts impact the way we live our lives.
Recognizing fusion and defusion is so helpful for me because it enables me have a way to deal with my thoughts as they come up. Learning to not become overly attached to either the positive thoughts or the negative ones. Seeing my thoughts as just thoughts or stories, that I can chose to pay attention to when they are helpful to me or let go when they are not helpful.
Can you identify stories you are overly attached to? What ways would you benefit from getting some distance from the stories your mind is creating? Can you practice getting distance from these stories?
To hear more about fusion vs. defusion checkout the ACT in Context podcast on the topic.
/*?>*/?>