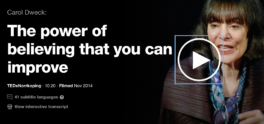 Carol Dweck has spent most of her almost 70 year life researching motivation. Her work on fixed vs. growth mindset has been helpful for many.
In short:
Fixed = ability and talent have been fixed, I have a certain innate amount and that determines how successful or not I will be.
Growth = ability and talent can be developed. I may have failed in the past, but can succeed in the future. I can grow and continue to change my potential.
I think most of us would want a growth mindset, but many are stuck in a fixed mindset. So how do we develop a growth mindset? One of the insights comes from looking at how children develop a growth mindset.
Children that develop a growth mindset tend to have been encouraged for the process and effort rather than the result. These children tend to outperform others.
This makes sense to us when we think of children. What child thrives when they hear "you have a limited amount of potential and when you have used it up you will stop growing?"
Instead, Dweck encourages adults to use words like "not yet" with children that haven't successfully done something. "You have not yet learned to ride a bike."
Children thrive when they believe they can grow. They will take risks. They will take initiative. They will endure failure to get to a better result.
There is power in believing "not yet."
This power doesn't go away when we grow up. We can still be "not yet" people. And if we are, we will find that we will develop more and more of a growth mindset.
If I practice with those weak areas of my life saying to myself, "I am not yet good at dealing with that situation," I will begin to get more and more of a growth mentality. I can grow, change, learn. This isn't just wishful thinking, it's the truth.
But I will have to start talking to myself differently if I want to grow. I'll have to become a "not yet" person rather than a fixed mentality.
To hear more about Carol Dweck's research watch her TED talk, The Power of Believing That You Can Improve.
/*?>*/?>