Our Powerful, Unbalanced, Brain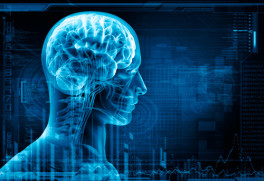 Our brains are the most sophisticated tools on the planet. At your next dinner party, find the neuroscientist in the room and ask him about your brain and it's magical powers. He'll go on for hours. We have a powerful, God given, tool right inside of our bodies.
Our brains are particularly astute at detecting danger, threats, and negative experiences. The brain will detect and protect like a mama bear protects her cubs.
But the problem is sometimes it seems that is all the brain wants to do.
Ask the person who hasn't been sleeping well why they can't sleep and often you will hear, "I woke up and started thinking about something and suddenly my brain was off to the races." For people with OCD the brain seems to get stuck on something and doesn't want to let go. For those with anxious tendencies the brain may ruminate for hours on end.
The brain wants a job and it seems to prefer to be the threat responder more than other jobs. Our brain likes to rewind and replay these experiences. It hangs on to things. Especially the negative things that happen in our lives.
But we aren't always in danger. Bad things aren't always going to happen, and negative experiences aren't the norm. But our brain can certainly convince us to dwell on the negative.
Here's the upside: our brains are also tremendous problem solvers. But we often don't spend as much time solving problems as we do worrying about problems. Our brain isn't always very balanced.
So often the issue with worry, anxiety, and stress is that our brain is out of focus.
Here are a couple of questions that might be worth asking the next time we are feeling worried, anxious, or stressed out:
Is this a real concern or is this my brain out of focus thinking about the wrong thing at the wrong time?
Am I worrying about things that I can change or am I letting my mind focus on things out of my control?
Can I do something about this today? If not can I let these thoughts go? What will help me let go?
Can I formulate a concrete plan that will address what I am worried, anxious, or stressed out about?
We can't change all of the things that we worry about in life. But we can change the relationship with have with our worry. There is freedom in that. And that will lead us to the life we want to live.
/*?>*/?>