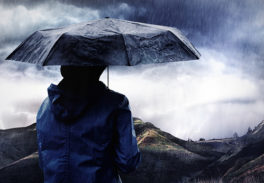 A couple of weeks ago all of my kids came home and we spent the weekend together celebrating my birthday. It's become a fall tradition that I look forward to every year. We spent the day in DC together: laughing, eating, seeing sites. When we all went our separate ways on Sunday, I felt a little down.
I had a post family weekend hangover. Then the rain started.
Monday morning was drizzly and overcast with rain in the forecast for most of the next week. I woke up each morning that week to another gray and rainy day. I noticed myself feeling more and more gloomy as the week progressed. There wasn't anything particularly wrong. I just felt blah, so every circumstantial bump in the road seemed like a bigger deal than it normally would. By the end of the week I was in a funk.
The following week held a better forecast, but the blah stuck with me. But I was determined to have a better week. So I picked a few things that I knew would help lift my spirits:
On a Monday night Greg and I went out for dinner and a movie. I knew some time together would be good for both of us after a stressful few weeks.
On Tuesday I took Greg's car to the car wash to clean it up (it was overdue). It was helpful to do something for someone else.
On Wednesday, I started listening to an audiobook that I've wanted to learn about for a while.
On Thursday I spent sometime with one of my supervisors reviewing some issues where I felt stuck.
I started some baby steps toward meditating daily, a practice one of my mentors has suggested.
None of these things are miracles or cures for when I feel down. But they help.
Most of us have periods when we feel down. Not true depression, but periods when our spirits are lower than normal.
But in the midst of those periods, we also can be intentional about choosing behavior that will lift our spirits. It may take experimenting to find what helps.
Owning our choices is a good step toward taking responsibility for our lives. Even when we are feeling down.
/*?>*/?>