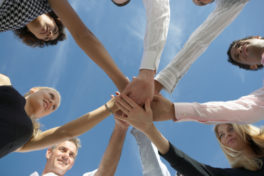 John Gottman is an expert on what makes relationships last. Gottman developed "love labs" where he and his team of researchers observed couples' interactions during daily life. They collected data and followed these couples over time to determine what kept couples together and what tore them apart.
One of their most interesting findings the ratio of positive to negative interactions for relationships that were stable and lasting versus those that didn't make it.
Positives are things like:
asking questions
expressing interest
being kind
giving encouragement
showing affection
being empathetic
Negatives are things like:
hostility
criticism
unkind comments
anger
complaining
The "successful" couples had a 5 to 1 ratio of positives to negatives. Couples that didn't last had ratios of .8 to 1.
It's helpful to remember this ratio with the significant relationships in our life. This principle applies to our spouses, children, co-workers, and more.
Imagine being surrounded by relationships that are overwhelmingly positive. What does it feel like? Are you helping to make a world like that?
How are you doing on "the positives" with those you care most about?
/*?>*/?>