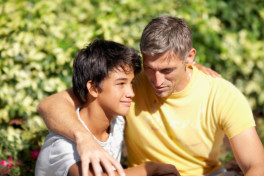 One of the most asked questions I hear about parenting is this one: how do I make sure my children grow up with the right values and beliefs?
We all have hopes and dreams for our kids. Many of us want them to grow up and live life a certain way. We love our kids, and want the best life for them. But sometimes our desire for them to live life "our way" can cause us to manipulate and to try to control things that aren't ours to control.
Here are 4 ideas to think about as you are influencing your children in the way they will live:
Recognize your own insecurity. There is a phrase in recovery circles called the the spiritual axiom. It says that when we are disturbed in any way we need to look inside at what is going on for us. Parenting can stir intense vulnerability inside of us. If we aren't careful we will be overly controlling as a means of relieving our own insecurities.
Recognize that failure or disappointment isn't the end of the world for our children. It's natural for us to try to protect our children. But at some point, if we aren't careful we develop overprotective habits that shelter them from opportunities they need to grow and mature. We have to use wisdom to discern when we need to protect and when we need to let them struggle. Allowing our kids to deal with struggles and failure will often help them mature more than the protection we offer.
Recognize that we need to keep growing. Healthy, growing parents are more likely to raise healthy kids. Parents that continue to grow will model for children what it is to truly live a fulfilling life. The kind of life that kids will also want to pursue.
Recognize that we want to develop relationships with our children for the long run. Our greatest opportunity for influence with our kids is through a healthy relationship with them. Like the other relationships in our lives, this means developing mutual respect, being honest and supportive, spending time together, listening, and nurturing like interests.
There are not any guarantees that our children will have the same values we hold. But we can develop relationships that increase the likelihood that they become healthy and mature adults.
/*?>*/?>