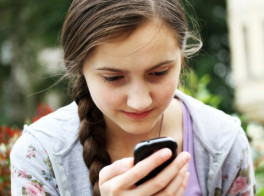 The longer I am a parent the more I realize what a huge responsibility and gift it is to help another person grow and develop. I don't know a single parent that doesn't want to raise great kids. Although, I've seen plenty that struggle in it. I've certainly struggled along the way. But generally, I find our intentions as parents are almost always good.
So why do so many struggle so much?
I don't have any easy answers but I do have an observation: as our children grow older we spend much of our parenting energy trying to get our children to act a certain way and less time trying to stay connected with our children. Connection is much more important for me and my kids than being able to control their behavior.
It's easy to stay connected with our kids when they are little. In fact, we might feel TOO connected when they are very young. They need us for everything so we are constantly connected to them.
As they grow older it's easy to lose the connection. As the Mom of two teens, one post teen, and one pre teen I'm acutely aware of how easy it is to lose connection.
So how do we stay connected as our kids mature? One of the things I have consistently tried to do is ask questions. Sounds simplistic but I've found over and over that by continuing to ask questions my kids and I can stay connected. Sometimes the questions are about easy things:
Who did you eat lunch with today?
What did you do during recess?
Where are you going tonight?
Sometimes the questions are about harder to breach topics like sex, alcohol use, and relationships.
This takes courage. It's often uncomfortable. Sometimes we are worn out and don't want to engage ourselves. It's easier to avoid the tough conversations. But in the end the risk of asking even the hard questions pays dividends. It's difficult (sometimes for both of us) but it's worth it to get to a place where we are connected.
If you have children, what are some questions you need to ask your children? If you are an adult without children, can you imagine some conversations that you wish your parents had with you? What are some other ways you can stay connected with your children (or parents)?
/*?>*/?>