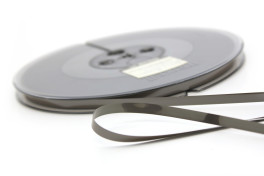 One of my favorite college professors gave me one of my most valuable lessons learned.
While I was in college in 1988, Professor David Herr had us record our interaction with students in an elementary school. We were practicing how to manage classroom behavior. Our goal was to give positive feedback in response to good behavior we saw rather than focus on negative behavior which can get too much time and attention.
The overriding idea was to "catch kids do something good." That was an invaluable lesson to learn, not just for managing classroom behavior, but for relating to my own children as well. I still try to catch them doing positive things and encourage them rather than give too much attention to negatives.
That wasn't the most important lesson I learned from David Herr. The most valuable thing I learned is how different reality can be from the perception of reality in my mind.
When I listened to those recordings I heard how I really sounded when talking to students. I was often positive and encouraging. But I could also be negative more easily than I thought. The recordings revealed reality: I needed to grow to become the kind of teacher I wanted to be.
I would have never learned that lesson without listening to that recorded interaction.
The feedback we get from others in our lives can be similar to those recordings. Others can often see parts of us that we simply cannot see on our own. It may not be as clear or as accurate as the feedback on those recordings, but listening to the right perspectives about what they see can be invaluable to developing an accurate picture of ourselves.
Without an accurate picture of who we are, it is doubtful that we will become who we want to be.
Are you willing to ask your spouse, child, co-worker, or friend to give you honest feedback about yourself? Are you willing to listen to what they say? Are you able to open yourself to the idea that reality might not be as you see it?
It's not always easy to take an honest look at ourselves. But it is often the first step toward growth. You'll be surprised by what you might learn about yourself.
/*?>*/?>