Saving Mr. Banks (and ourselves)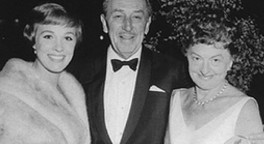 I saw Saving Mr. Banks yesterday. No surprise here: I'm a sucker for movies that give a peek into someone's inner world.
The story is about how Walt Disney convinced P.L. Travers to make a movie of her book, Mary Poppins.
It wasn't an easy task. Travers was difficult to work with. She disliked Disney. She disliked the idea of musicals. She disliked animation. She was full of dislikes.
But Travers also wanted to make the partnership work. It was a love/hate kind of a partnership.
It took Disney 20 years to convince Travers to allow him to make Mary Poppins.
Travers was ambivalent. According to Webster's, ambivalence is the simultaneous and contradictory attitudes or feelings (as attraction and repulsion) toward an object, person, or action. It's when you love something and hate it at the same time.
Much of  the film revolved around Travers unresolved issues with her alcoholic father. She adores her father and also pities him. She is ambivalent toward her father. As portrayed in the film, that ambivalence caused her to stall in life for years.
We are emotionally complex creatures. It's normal to be ambivalent about some parts of our lives. Even important parts. We often carry ambivalence about our work, our families, our friends, even our significant others.
Travers problem wasn't her ambivalence by itself. Her problem was that her ambivalence led to being stuck. For decades.
Ambivalence is normal. But when ambivalence causes us to stop growing toward the life we want to live, there is the problem.
In this new year, what ways do you want to grow toward the life you want to live? What is getting in the way? In what areas do you carry ambivalence that holds you back?
/*?>*/?>