Saying Yes Early and Often.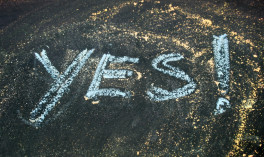 Not long after I became a first-time mom, I picked up some great advice:
Say yes to your kids as much as possible.
I don't remember where it came from. But for the last 23 years, Greg and I have tried to follow that advice as much as possible. We even tell our kids that our goals is to say yes to as much as possible.
We want our kids to know that we are for them. We want them to make choices. We want them to be able to make mistakes and learn from their experience. We want them to have the opportunity to show that they are trustworthy.
We want them to know we assume the best about them. We want to build the connection and the relationship.
There are good reasons to say no. When our kids have asked for things that aren't good choices, aren't safe or age appropriate, or just aren't feasible, we say no.
But the underlying principle is still to say yes early and often.
I've noticed that often my first internal answer is no. My personality is more cautious and less adventurous by nature. My mind tends to remind me often of all the possible bad scenarios that could happen.
So when my kids ask to stay after school and walk to Rita's, go to a concert, or drive to a friends house to spend the night, my first thought is to say "no." But that initial no is not the kind of mom I want to be. It's more about being cautious.
At times, I've said no and then had to go back to them with a yes. I've told them that my initial no was out of fear, and that I trust and love them and want to say yes.
I've grown over time.
The gift of relationships is often the invitation to grow. There are few relationships that invite me to grow more than my kids.
Where do you see the relationships in your life that invite you to grow?
/*?>*/?>