Self-Compassion: Mindfulness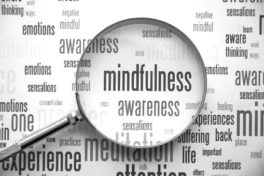 Kristin Neff describes the three fundamentals of self-compassion: mindfulness, self-kindness, and common humanity. Developing self-compassion is an important practice for anyone who wants to grow. We can spend a lot of energy judging ourselves. This judgment stunts our growth.
The practice of mindfulness, allows us to become aware of what we are experiencing as we go through life. We can learn to notice when we are in pain, develop compassion with ourselves, and let go of the self-judgment.
Christopher Germer, PhD. and author of The Mindful Path to Self-Compassion, explains "mindfulness has a quality of being in the now, a sense of freedom, of perspective, of being connected, not judging, of flowing through the day. When we're mindful, we're less likely to want life to be other than it is, at least for that moment."
Germer suggests that we often spend much of our time in "mindlessness," without having conscious awareness of whatever we are doing in a given moment. We can do routine things like driving to work without remembering the points along the way.
"Mindlessness is not a problem if the movie we are playing in our heads is sweet and enjoyable, but sometimes it is scary and we'd like nothing better than to get up and leave the theater. Our attention gets kidnapped by our suffering."
Moving from mindlessness to mindfulness helps us be aware of a painful experience or emotion without getting caught up in the thoughts or story that can go along with that pain. We notice and experience our lonely feelings without getting pulled into the judging thoughts we have about why we are lonely.
We can say to ourselves, "you are feeling really lonely and that is very painful." This simple change, can allow us to be more compassionate with ourselves.
And compassion with ourselves can give us the much needed space to grow.
/*?>*/?>