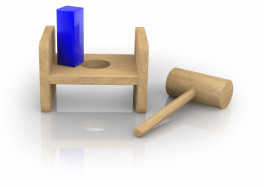 If you were able to be a fly on the wall as I meet with clients you'd quickly realize something significant. Many of my clients share a common struggle.
While the outside circumstances are different, on the inside most of us feel like we don't fit in. We experience this in different ways and to different degrees. But 99% of us share this feeling to one extent or another:
"I am a square peg in a round hole."
you are the introvert in a family of extraverts
you are the PC in a place full of Macs
you are loud and outgoing in quiet office
you are a team player in the capital of individualism
you are athletic in a family of musicians
you are a liberal in a group full of conservatives
you are the tall girl in a group of petite friends
you are the sensitive son while your brothers are boisterous and rowdy
you are timid and cautious in a group of risk takers
you are an average student in a class of overachievers
you like to work with your hands but your siblings are all intellectuals
you love to talk about ideas in an office of doers
you dislike competition in a workplace where winning is the only goal
you value commitment to faith in a family that does not acknowledge faith
you love going to work in a community of stay at home moms
you decide to be the stay at home dad in the neighborhood of suits
you are carefree and unstructured in a classroom of organized students
you love heavy metal when those around you love country
The secret of the square peg round hole is that most of us feel like the square peg.
The real pathway to growth is not trying to get rid of the feeling that we don't fit in. It's accepting that we are different and learning to value ourselves and our differences. Our best selves emerge when our energy goes away from our insecure feelings of not fitting in and towards learning to value what we bring to each situation.
Our square peg is awesome for that round hole.
/*?>*/?>