Stopping the Rumination Tennis Match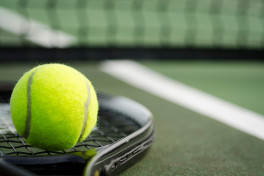 Rumination is a tennis match between discomforting and comforting thoughts. When we hit a discomforting thought over the net we return the ball with a comforting thought.
The volley keeps on going.
When we are stuck in a rumination, we think we can reason our way out of it, as if we will be able to come up with the ultimate comforting thought to end the cycle. The problem is that our comforting thoughts simply lead to more discomforting thoughts.
Olle Wadstrom, author of Quit Ruminating and Brooding, suggests that the only way to stop the rumination is through extinction. Extinction occurs when a behavior is no longer reinforced.
The pattern simply dies.
If we picture the rumination as a tennis-match the treatment would be to not return the ball back after the discomfort-side has served. Serve after serve is made, but no one on the comfort-side hits the ball back. Eventually there are no more balls left and the serves cease. The game is over. Olle Wadstrom
The way to end the rumination is stop the back and forth of the discomforting thought to the comforting thought. That means allowing yourself to feel all the pain and fear that get triggered with the discomforting thought without doing anything to stop it.
It does not mean that you have to accept that the discomforting thought is true or inevitable. That is a possible outcome. It is really about letting yourself face the uncertainty without reassuring yourself that the uncomfortable thought won't happen. That breaks the cycle.
You can escape the back and forth tennis match of rumination.
/*?>*/?>