Stories of Roller Coasters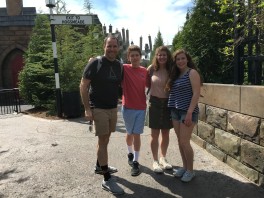 I spent last weekend with Greg, Riley, Seth, and good friends going to Universal Studios and Magic Kingdom. The last time our family went to an amusement park together was 14 years ago and Riley and Seth couldn't remember that trip. So we were due for an adventure.
I have a love hate relationship with amusement parks. I love being with our family and friends, but rides are not really my thing. I can get car sick in the passenger seat on the way to the grocery store. So turns, dips, drops, and banking isn't my idea of fun. I feel the anxiety in my body: my palms sweat, my heart rate increases, my stomach feels queasy.
As a teenager, I dreaded going to amusement parks. Not only did I not like the rides, but being there seeing everyone else having a good time suggested there was something wrong with me. The story my mind used to tell me was that there was something significantly deficient in me that I didn't like to go on the rides. It was a character flaw, a weakness; it meant I wasn't fun.
Sometimes I would ride the rides because I thought I should. But because I wasn't having the time of my life I still criticized myself. I felt like I couldn't win.
Last weekend I rode many of the rides. I didn't ride the big crazy ones. But I soared across the Quidditch field at Harry Potter World, swung on Spider Man's rope, and was a real life Transformer for a few minutes. I laughed and enjoyed being with my family and friends. I could enjoy the time I had.
I don't think I'll ever love rides. But the story has changed. I've let go of the judgment.
The story I tell myself now has shifted. I no longer let my story about rides say more about me than is helpful. I just don't prefer amusement park rides. I'm not deficient or weak or boring because I don't love rides.
Stories are powerful. They shape so much of how we view ourselves. And not just about roller coasters.
Stories are the narrative we listen to about everything. What are your stories telling you about yourself?
/*?>*/?>