The Day After She Said Yes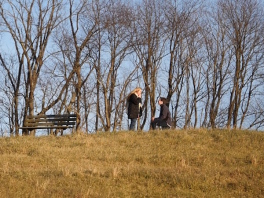 Yesterday, my oldest son, Caleb, asked his girlfriend, Emily, to marry him. As the story was told last night, she was speechless and didn't say anything. But the hugs, kisses, and tears indicated a yes.
We spent the evening celebrating with her family and then their friends. It was one of those days that I won't forget.
I've known for a few weeks that it was coming. I have reflected on marriage during that time. There are a few things I want my son to know going into marriage:
Marriage is hard work. Like everything worth anything in life, marriage is hard work. Expect it. Be ready when it isn't just easy and fun. There will be joy. But there will be serious challenges as well. Plan to work hard at loving each other well.
You are on the same team. Even when you disagree, fight, or argue, you are not enemies. ESPECIALLY, when you disagree, fight, or argue, you are on the same team. Marriage is the only lifelong commitment you will make with anyone else on this earth. Above all else, you are on the same team. And this is the most important team in your life.
Cultivate the things you enjoy. Find the things you enjoy about each other and your relationship and cultivate those things. Look for what makes you delight together and be intentional about making those things a part of your rhythm of life. These are your things. They don't need to be anyone elses in the world.
Be your own person. Keep nurturing your own interests and passions. Be willing to share them with each other, but don't insist them on each other. There are few things in life that will give you the opportunity to grow that marriage will. Utilize the opportunities to mature as an individual, and your spouse, and others around you, will benefit from your growth.
Be willing to let go of being right. When you disagree, do what it takes to let go of your need to be right. Wanting to be right can feel deeply satisfying in the heat of an argument. But an hour later being right is useless. Willingness to let go will benefit you far more than the satisfaction of being right.
Be guided by values. Determine the kind of spouse you want to be and the kind of marriage you want to have. Those are your values. Allow those values to be what guide you rather than how you may feel at any given moment. Your feelings will lead you in all kinds of directions. Your values will keep you centered and able to move in the right direction.
Forgive liberally. Don't be too afraid to make mistakes. Some of your mistakes will hurt your spouse. When you hurt each other be quick to take responsibility for your part of that. Say you are sorry, mean it and move on. Forgive each other and yourself.
/*?>*/?>