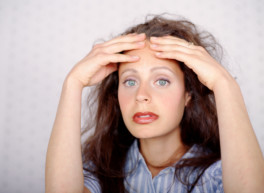 Feelings are often either the hero or the villain in our lives. There is a lot of mystery around our feelings. Sometimes we are confused about our feelings. Sometimes we are afraid of our feelings. Sometimes we are ecstatic about our feelings.
The challenge in life comes in how we relate to our feelings. We sometimes allow feelings to drive us instead of inform us in life.
Feelings are great dashboard instruments, but terrible fuel for our lives.
We often blame our feelings for the pain in our lives. In reality feelings are indicators not causes of what is going on in our lives. We usually have little control over what we feel in any given situation. But we have significant control over our response to what we feel.
Sometimes painful feelings seem like they are going to overtake us or that we won't be able to deal with the hurt that they bring. We are afraid that if we let ourselves feel the negative feelings we might lose control over part of life. Many times we feel like we can't handle the pain.
So we use defenses to avoid the negative feelings. Some of these defenses might appear harmless like procrastination, avoidance, or busyness. More insidious looking defenses may be addictions, acting out in various ways, or being hurtful to ourselves or others.
Here's the great feeling irony: we will spend more time and energy trying to avoid and "control" our feelings than learning how to deal with our feelings in a way that is helpful in our lives.
So this cycle will continue: uncomfortable feelings cause us to avoid or use other defenses which causes us to have more uncomfortable feelings that we continue to try to avoid or defend against. This cycle can go on and on and leads us further and further away from the life we want to live.
There is a different path. This path will take some time to learn but in the end will usually produce a far better long term result.
If we can see the feelings that we experience (both positive and negative) as indicators rather than something we can control or manipulate we will begin to have a more helpful relationship with our feelings. We can learn to allow ourselves to really experience our feelings. We can let ourselves feel the pain that comes up without judging it or trying to fix it.
When we learn to do this we will develop an internal guidance system. A system that will help us make good decisions that lead us to a life we want to live.
What feelings are you trying to avoid rather than experience? What ways can you acknowledge your feelings without judging or trying to fix them? What would happen if you were able to choose direction in life with the helpful information that your feelings can give?
/*?>*/?>