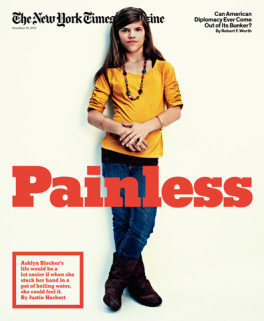 Pain free living.
Can you imagine? My personal happiness would skyrocket without pain. At least that's what I tell myself.
Ashlyn Blocker has lived her entire life without pain. She's thirteen years old and she doesn't know what it's like to feel pain. Her life must be pretty great right?
Actually, Ashlyn's life is far from easy. When she was young her parents had to wrap her hands to keep her from biting them. Recently, Ashlyn reached into a pot of boiling hot water to retrieve a spoon that had fallen in when she was cooking noodles. Ashlyn's parents have to be constantly vigilant.
Ashlyn simply doesn't have the signals that say, "Don't do that! It will hurt! That's bad for you!"
I was struck by this statement from her doctor, Dr. Roland Staud:
Her life story offers an amazing snapshot of how complicated a life can get without the guidance of pain. Pain is a gift, and she doesn't have it.
We will go to great lengths to avoid pain:
Mindlessly watch TV or do things on the computer
Drink too much alcohol or use other drugs
Keep a frenetic pace in life so we stay busy
Engage in unhealthy relationships
Indulge our sexual desires in harmful ways
Eat too much
Some of these things work. We can avoid the pain. Sometimes.
But what's the cost? Are we harming ourselves by not allowing ourselves to feel pain?
Pain is a gift. Pay attention to it.
/*?>*/?>