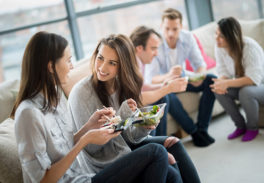 I feel insecure about my ability to make small talk at parties, especially when I don't know most of the other guests. I can feel awkward and struggle to know how to initiate conversations with others. Sometimes even when I am talking to someone I feel self conscious about how uninteresting I am. Or I imagine that the other person is counting the seconds until they can exit our interaction. The whole situation can feel really terrible for me.
It does not always feel like this. When it does, I see myself as being the problem. After all no one else appears to be having the kind of difficulty I am having. Everyone else in the room seems to be having a blast!
Dr. Kristin Neff author of Self-Compassion: The Proven Power of Being Kind to Yourself, explains that when we are in situations where we feel threatened and we see ourselves as the problem we are wired to attack ourselves. She says this is our habitual response of self-criticism.
This is exactly what happens to me when I see myself failing in a social interaction. I instinctively begin to beat myself up. Some part of me must think this will help, but all it does is make me more likely to be a party dud.
Dr. Neff suggests that engaging in self-compassion would be more helpful to me. She explores ways that we can be our own "inner ally," learning how to be kind to ourselves, encouraging ourselves instead of tearing ourselves apart.
It takes a great deal of awareness and intention to begin to practice this different way of relating to ourselves. It feels awkward and uncomfortable, but it offers possibility of moving toward a better way.
/*?>*/?>