The Inner Critic and an Opportunity to Grow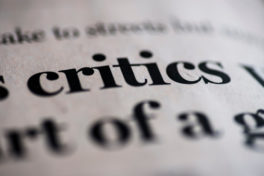 I can be my most harsh critic.
This week I was listening to an interview with Paul Gilbert, founder of Compassion Focused Therapy (CFT). One of the aspects of this therapy that is interesting to me is that it deals with the nature of the conversation we have with ourselves inside our minds.
Most of us have a harsh, critical, inner voice that commentates our everyday experiences in at best unhelpful and at worst destructive ways. Compassion focused therapy suggests that shifting that inner dialogue to a more warm, friendly, compassionate voice can greatly improve our inner experience.
When we get stuck in an unhelpful way of thinking Gilbert suggests two steps:
Be aware that I'm stuck and make this label with a kind voice. "I can see that my mind is stuck and I am struggling to move my attention to something else. This is difficult for me." This is the first step to changing our critical inner experience.
Try to bring up in my mind a more helpful thought: "recognizing that I'm stuck in this loop, what would I most like for someone to say to me. What would be most helpful for me to hear from someone else right now?" Then experiment with encouraging yourself in that way.
These steps sounds overly simple, but you'd be surprised how they may help you and your growth experience. We can learn to be aware of this critical voice so it isn't the loudest voice in our heads.
Learning to be compassionate with ourselves is another step that leads to the life we want to live.
---
For those in Baltimore who are familiar with The Enneagram, my friend and Enneagram instructor, Michael Naylor, is giving a weekend workshop on this topic: The Enneagram & The Inner Critic Workshop: Deepening Heart Healing. If you are interested in being a part of this weekend you can register at innercritic.blueoceanideas.net. I've been to a number of Enneagram training weekends and each provides a rich opportunity for growth.
/*?>*/?>