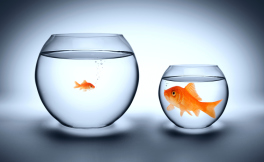 Teddy Roosevelt said "comparison is the thief of joy."
Comparison can be a dangerous double edged sword. Today it is easier than ever with Facebook, Instagram, Twitter. We see so much of other people's lives played out in front of us.
There are good things about comparison:
Comparison can remind you to be grateful when you see others in painful situations.
Comparison can lead to compassion and caring for those less fortunate.
Comparison can even challenge you to see new and different ways you might want to live your life.
But it is so easy to get sucked down into negative comparison:
I wish my life looked more like his.
She always seems to have it together.
I just seem like a loser compared to the others around me.
In our heads, we can run a scoreboard comparing ourselves positively or negatively to other people. We bounce up and down based solely on how we perceive others around us. We are like ships without sails being tossed around without direction.
Oftentimes, we compare because we want some reassurance that we are ok. We attempt to work out questions within ourselves by comparing to others, instead of looking at our own values.
Comparison disconnects us from our own sense of what matters to us. We end up constantly shifting based on perception. In the end, this will lead us to feeling lost and discouraged.
But there is another way. We can get clarity on what is important to us. We can establish a vision for ourselves and our future. We can decide to let go of the comparison trap and let our values point us in the direction we want to go. We can be guided by fixed points instead of constantly shifting in the wind.
Can you imagine the freedom that comes with letting go of comparison?
/*?>*/?>