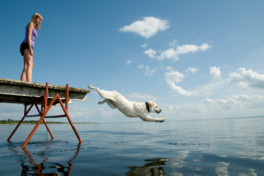 I've been struck by this idea lately: it can be as uncomfortable to deal with the really positive moments in life as the painful moments. It seems counterintuitive, but it's true. It can feel vulnerable and scary to let ourselves fully experience joy or connection with others.
Sometimes in the middle of a great conversation or a fun moment I hear a voice telling me to hold back or be careful. Sometimes it says, "don't let your guard down and enjoy this because it won't last."
I have a high school senior that I'll be saying goodbye to in nine months or so. And since this is my second time letting go of a college bound kid, I know how painful it will be to say goodbye. There's a part of me that wants to hold back and protect myself from this loss.
The problem is the more I try to protect myself the more I rob myself of the joy that could be in the present moment. I don't want to live my life that way. I don't want to play it safe. I want to fully enjoy whatever there is for today.
Brene Brown has found in her research that joyful people experience the same fearful thoughts that I have. They just don't let themselves become consumed by these thoughts. Instead they do something simple: they practice gratitude.
I have never in twelve years interviewed a single person who described themselves as joyful, their lives as joyous, or described the ability to lean into joy, who did not actively practice gratitude. Across the board the one difference that they had from the rest of us is that they actively practiced gratitude. –Brene Brown
For me, this year, this means being grateful for the time I have with my high school senior. It means slowing down and taking in each moment. It means being willing to fully experience and practice gratitude for the moments that I have, rather than listening to the voice that tells me to withdraw and protect myself from the pain that is to come.
And in practicing this gratitude in each moment I invite joy into my life. And I allow myself to fully engage in the present even knowing that it won't last and change is ahead. That's the kind of life I want to live.
Do you find yourself robbed of joy because of fear of the future? What ways can you practice gratitude today? Can you begin by noticing when you are fearful and then letting yourself be grateful even in that moment?
/*?>*/?>