The New York Marathon Lesson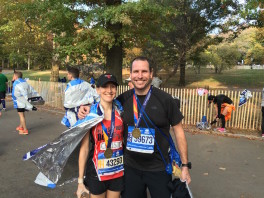 About a year ago, my husband, Greg, and his cousin, Christy decided to run the New York Marathon together. Both are experienced marathoners. They've run 21 between the two of them. Christy is a New Yorker and she knew she would be admitted to the race. Greg needed a lottery spot to get in.
Which he received earlier this year.
So last weekend we took a train up early Thursday morning and spent four days and three nights in the Big Apple culminating in race day on Sunday.
Race day was a special day. Christy and Greg ran side by side the entire 26.2 miles to the finish line. Our two youngest kids, Christy's parents, and I cheered from locations around the course.
There is something special about this marathon. I've spectated before, and they are all fun, but New York was packed with people and the race itself is huge. The kids and I found ourselves swept up in the excitement and before you knew it we were cheering for every runner that went by.
Many of the runners put their names across the front of their shirts so that the crowd could engage them personally. So we were cheering and screaming for Valerie and Stan and Katia and hundreds of others that streamed by. Seeing each runner strive after their finish line goal was an amazing honor to see as witnesses to the event.
I was struck by the wisdom of the runners. Knowing they would face serious challenges along the way and would need encouragement they took the initiative to help themselves be cheered for in the midst of the race. Giving the crowd their name helped us cheer for them.
I thought about my own life and the challenges I face. How can I look for the things that I can do that will help as I face difficulties? In what ways am I willing to encourage myself as I go through the hard things in life? What can I communicate to others that will allow them to encourage me?
Sometimes it's as simple as planning a walk in the middle of a long week. It may be arranging lunch with a friend. Or taking a little bit of time during the day to read and journal. It could be arranging a family date to get together with the people I love.
Unlike the runners in the New York Marathon, we don't always get to choose the challenges we face, but we do get to choose how we will care for ourselves in the midst of the challenges.
In the end the challenges, and our response, are often the tools that lead to growth.
Don't be afraid to encourage yourself.
/*?>*/?>