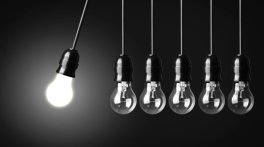 We can't avoid the impact others have on us. We'd like to, but we can't. Sometimes we romanticize those who seem untouchable.
Who doesn't love an independent, American, free-spirited cowboy?
But in reality, to varying degrees, we are all deeply impacted by those around us.
We get an email from our boss or a client that fills us with anger or anxiety. Our mind races in different directions. We fire off a reply that is defensive or blaming.
Our teenager struggles in school. We remember our own adolescent challenges and we react by lashing out at them hoping that will cause a different outcome.
We are left out of a social event invitation. We are filled with insecurity and disappointed that we weren't included. We withdraw and distance ourselves from the people involved.
Often, in these situations, we may not even realize the ways we are affected by others. Our reaction is simply automatic; well worn ruts in our personalities.
Sometimes these reactions are helpful. Often they are not.
The real problem comes when the reaction is out of step with our values. That's where the damage is done.
The good news is we can learn to respond differently. We can develop a healthier approach to our interactions with the significants in our lives. We can learn to stay true to our values.
It won't happen overnight. It will be hard. We will need to gain awareness.
But if we practice and allow ourselves some space, we can learn to respond in a way that leads us to the life we want to live.
/*?>*/?>