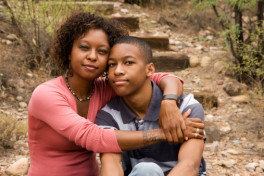 As a little girl I wanted to grow up and become a mom. I know not all women feel that way, but being a mom was part of my hopes and dreams. I couldn't wait to be mom.
My first child was born March 7, 1993. Since that day I can count on one hand the number of days I haven't been grateful to be a mom. I don't take it for granted. It's a privilege to raise each of my kids.
But even though it brings me great joy, parenting is not for the faint of heart. Few things challenge me more physically and emotionally. Being a parent is hard work and things rarely end up the way I expect them to. There can also be great conflict in my relationship with my kids.
A few weeks ago, I heard Dr. David Schnarch  describe how marriage is a people growing machine. I think the same can be said of parenting. Long term relationships with our children provide so many opportunities for us to grow. Our children have a unique ability to challenge us in ways that others do not.
We see our own real or perceived flaws show up in our children and it stirs something deep in us. We see our kids make choices that we know will lead them to pain and we are afraid. They act like they don't need us. Sometimes they openly reject us and it stirs anger and pain deep inside of us.
The real problem is when the emotions that are stirred up inside of us keep us from relating to our kids in a healthy way. We get all caught up in our own story and end up reacting in unhealthy and sometimes damaging ways. When things aren't going well in our relationship with our kids, it is easy to react by punishing recklessly, withdrawing, or otherwise trying to simply "fix" the situation.
The problem is this reactive response often causes more damage and gets in the way of our relationship.
What our children need from us is to be healthy adults. That means learning to deal with our own responses internally without dumping more stress on the relationship. This requires awareness of what is happening inside of us and practice taking care of ourselves before we respond or react to what is happening for our kids.
This isn't easy. But if we do the hard work of dealing with our own issues first we will often bear the fruit in our relationships with our children.
When you are in a conflict with your children, what issues are brought to the surface that you have to deal with? Can you sit with that inner tension before you react to your kids? How can you ground yourself before responding to what your kids are going through?
/*?>*/?>