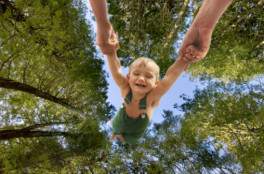 As a new young parent I was full of ideas about what my goals were for raising my kids. My expectations were high and I wanted to be the best mom I could be. In reality, most days I was caught up in figuring out how to get us through the day in one piece.
What I do remember was that my early goals for raising my kids were mostly about protecting and sheltering them from anything that would potentially entice them away from becoming the kind of person I hoped they would grow up to be. When they were very small this was easy to do. I had almost complete control over the people they spent time with, the books I read to them, and the things they watched on TV. It's easy to control the people, places, and things in a kid's life when they are very young.
But once my oldest started school and I had more children to keep track of I realized that controlling their world, while easy when they were young, was impossible and exhausting as they grew older. I needed a different way to think about what my goals were.
I believe that a large part of our job is protecting our children, being a filter for what they can and can't be exposed to, and helping to shepherd them in our family's values. But a focus only on these things misses our higher calling as parents.
Our higher goal as parents is to prepare our children for making their own decisions and equipping them to live as independent adults in the world.
This subtle but very important change in thinking is helpful for me as I navigate the day in and day out choices that comes with parenting my children. Instead of working only to shelter them from things that can hurt them it also means consciously  engaging them in a relationship where the ultimate goal is to help them learn to make decisions entirely without me. It means allowing them to take risks and potentially get hurt. It means as they grow older giving them increasing levels of responsibility to live life the way they want to. And the freedom of choice that goes with that responsibility.
This isn't easy. In many ways it's easier to try to control more and protect more. Controlling and protecting at least give me the illusion that I will get the outcome I want. But control and protection are limited in the lifelong value they give to my children.
Often control and protection today comes at the price of growth and maturity tomorrow.
How would it change the way you interact with your children today if you kept in mind the ultimate goal of parenting? What ways do you focus on protecting your children today at the expense of their maturity tomorrow? What are some ways that you can begin to shift your focus and guide them into making their own decisions in life?
/*?>*/?>