The Power of a Great Question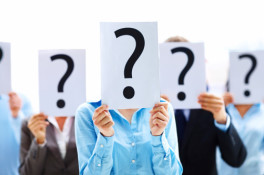 When my oldest son was preschool aged he asked more questions than anyone I've ever met. He was curious about EVERYTHING. In fact, all of my kids have been question askers. My youngest son, Seth, is still curious about all kinds of things from Thomas Jefferson to obscure insects.
Thank God for Google and the Smithsonian Handbook of Insects.
As an adult, I find we often lose our curiosity and stop asking questions. I'm sure there are a lot of reasons this happens. We might feel the pressure to know a lot. We may think that asking questions makes us look weak or stupid. Sometimes I think we don't ask questions because we don't want to know the answers.
Whatever the reason, many of us live questionless lives.
I've been reading One Question: Life-Changing Answers From Today's Leading Voices by Ken Coleman. In the introduction the author says something that has been rattling around in my brain:
Good questions inform; Great questions transform.
Powerful isn't it?
Coleman asks people like this:
Marcus Buckingham
Seth Godin
Jim Collins
Jimmy Carter
Tony Dungy
Questions like this:
We all have unique talents and strengths yet so many never find their niche; how do we find it?
How can we best discern which opportunities to take and then maximize them?
What would you say to people who have a big idea but are full of anxiety because they do not know how to start or get going? How can they begin to make their dreams a reality?
When a child brings home a C, D, or F what should the parental response be in light of what you believe about focusing on ones strengths?
How can one fully live in the now while keeping an eye on what's next?
How can we conquer fear?
I love these questions.
Part of my training as a therapist was watching great therapists in action. I still get to do that today when in supervision or when working with another colleague.
I've noticed a very obvious distinguishing trait:
Great therapists ask great questions. I'm convinced the best therapists are not those with the best "advice." Gifted therapists ask questions that help us examine the life we are living and the life we want to live.
I've watched one of my mentors ask questions that help a client slow down, see an honest, clear view of themselves, and begin to reflect on ways they want to change. Sometimes it feels like people begin to transform in front of my eyes.
It's a gift to see when that happens. A rare gift. A powerful gift. A gift that starts with great questions.
What questions could you be asking yourself about ways you want to transform?
/*?>*/?>