The Power of Dad (And You)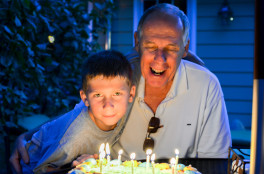 My earliest memories involve two things: playgrounds and my dad.
Wherever we would go, my dad would find the playground and Eric and I would play. My dad pushed us on swings, spotted us on monkey bars, caught us on the slide, and tried to balance his 6'4" body on the see-saw with ours on the other side.
He wanted us to play. He wanted us to play with him. And naturally, we wanted to play with him.
As we grew older we left the playground but we still played: baseball, soccer, basketball. My dad taught us about sports. He cheered for us. He coached us.
My dad went on field trips, visited my classroom, and came to concerts. Much of the time he was the only dad there in a pack of moms. He didn't seem to mind. It's more normal today to see dads involved, but at the time he was one of the only ones.
My dad told me he loved me often. And he was affectionate. I'm guessing that felt unnatural to him at first. My grandfather was typical of the greatest generation: hard working, dutiful, providing. But he wasn't one to show much affection or emotion.
But my dad told me he loved me and hugged me and kissed me.
My dad shaped everything about me.
As I grew older, I realized how much my dad worked at all of this. My dad worked on his own growth. I saw him do it. I saw him work on his marriage, his career, learning skills around the house.
My dad was always growing. And that growth poured over into me.
I often sit in the room with clients struggling to grow. And they do. And when they do everyone around them wins.
Some of us have great dads. Some of us suffer with painful memories and scars that dad left. Some of us had good dads but longed for more.
But all of us have a vested interest in growth. When we grow, everyone around us wins.
My dad started on the playground. Where will you start?
/*?>*/?>