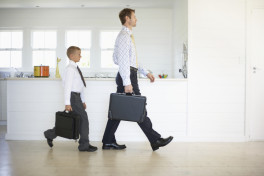 Every parent that I know wants to teach their children to be kind and caring toward others. There is a universal desire for our children to be "good."
In the thick of raising kids that often feels like a daunting task.
The New York Times article, Raising a Moral Child, by Adam Grant, explored this universal concern for parents. I stumbled on the article from a friend's post on Twitter a few weeks ago.
It's worth a read whether you have children or not.
Among other ideas, the article cites research from J. Philippe Rushton, the late Canadian psychologist. Rushton gave kids tokens for winning a game coupled with the opportunity to give some of their winnings away to a less fortunate child.
Rushton was looking for whether the kids were more generous after being taught about being generous or by observing their instructor modeling generous behavior. The study revealed that the instructor's generous actions had the greatest impact on the students being generous, even when they were not taught about being generous.
When we reflect on this truth, it probably doesn't surprise us. We intuitively know that often what someone says is far less influential than what they do. We watch others, and ourselves, say one thing, but do another.
What we DO sets up the culture in families, businesses, and other organizations.
That both inspires me and terrifies me at the same time. There are parts of what I do that I am so happy my kids have adopted in their own lives. But there are others that I wish I could "fix" with an easy lesson on the subject.
In both cases, my kids see through my words with ease, and often model what I do.
What are you modeling in life that you want others to adopt? What are you saying that is inconsistent with what you do? Can you identify the areas that you want to "do" differently so that what you say is more consistent with what you do?
If you can identify the discrepancies, you'll find some opportunities for growth that will lead you more toward the life you want to live.
/*?>*/?>