The Power of Love & Compassion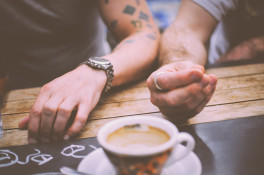 James Doty was a poor child in the high desert of California. Father was an alcoholic. Mother was depressed and disabled. According to Doty, he was on a road to nowhere as a child.
When he was 12 years old he walked into a magic shop looking for a plastic thumb. In the shop he encountered a hippy named Ruth. James was looking for help with magic. Ruth showed him love. Ruth's compassion on 12 year old James Doty changed his life.
James Doty went on to go to college (something his guidance counselor didn't think was a possibility), then medical school (something no one thought was possible with a GPA of 2.5). He became a brain surgeon and today is the director of the Center for Compassion and Altruism Research and Education (CCARE) at Stanford University.
James Doty points to the 6 weeks that he spent with Ruth as one of the fundamental and life changing times in his life. Ruth helped him rewire his brain (literally) and as a result change the trajectory of his life. To hear more about Doty and his experience check out his interview on Krista Trippet's On Being podcast.
Here are a few of the big takeaways that I loved:
Appreciate everyday that I have the capacity to, through my actions, improve the life of at least one person.
We know this from the science, when a person sees another person engage in a positive behavior, they are many many more times likely to engage in that behavior themselves.
Each of us has the ability to change how we emotionally respond to our life circumstance and create an environment where we ultimately can flourish and give those around us the opportunity to flourish.
/*?>*/?>