The Power of Understanding the Want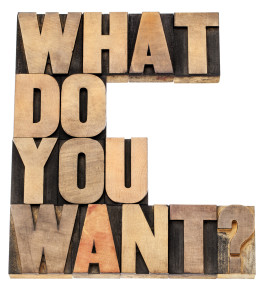 I get to be a part of some amazing moments. It's not every day, or every session, or even with every client. But often enough, I get to see magic moments happen.
One of my favorites is when I see two people have a breakthrough in a relationship. It can be parent/child, husband/wife, co workers, or any other significant relationship. But when the breakthrough happens it can be like a holy moment.
It can be terrifying before it happens. Breakthroughs often come after the hard moments.
I had this kind of opportunity this week when two people came in asking for help with a particular issue that was typical of other conflicts we have been talking about in their relationship. As they began to explain the particulars to me, they immediately jumped back into the fray.
As I watched them interact I realized a few simple things:
Neither one had any idea what the other wanted.
Both thought they understood what the other wanted.
There was no magic bullet to fix their relationship. But there was a straightforward way to move forward.
As I asked a few clarifying questions they gradually began to understand each other. Within a few minutes they went from hostile to helpful. It wasn't something I did. I was just asking questions.
What happened? They took the time to understand what each other wanted. And not just understanding on the surface. There's a difference between listening and really understanding.
They slowed down and spent time getting the concrete details of what the other was looking for:
What do you really want?
What does it look like?
What is an example of what you want?
How would you like me to relate to what you want?
Sounds so simple doesn't it?
It is. But there is power in understanding the want.
Next time you are stuck in a conflict you can ask this simple question: what do I want and what does the other person want? Take the painstaking time to get real clarity. You'll be surprised how far that can take you towards growth.
/*?>*/?>