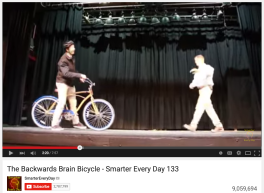 My husband showed me a video this week that struck me about how we change.
It was about a man whose co-workers created a bike that turned opposite compared to a normal bike. When you turn the handlebar to the right the front wheel turned left. And when you turned the handlebar to the left the front wheel turned to the right.
His co-workers thought it would be funny to watch him ride it.
He couldn't ride it. Not even a little bit.
In fact, no one could ride it. He even offered people $200 if they could ride it 20 feet. No one won that $200.
So he decided to practice. Five minutes a day every day. How long do you think it took him to learn? A day? A week? A month?
How about eight months? That's how long it took for him to be able to ride the bike. And even after eight months if he was distracted he would crash and fall.
I don't understand the neurobiology behind this experiment.
But I do understand this: changing habits is hard.
If it takes eight months to learn to ride the backwards bike, no wonder it takes a long time to make progress on many of our deeply rooted patterns of living. No wonder we get frustrated that the way we interact with our boss, children, or spouse is so hard to change. Even when we are putting a lot of effort into the relationship, it takes deliberate time and practice to change.
Change is possible, hard, and takes practice. Go easy on yourself next time you are frustrated at the rate of change in your life.
/*?>*/?>