The Relationship Change Challenge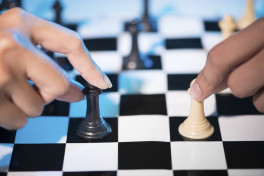 There's a subtle secret about change in relationships that causes a significant challenge: not everyone is initially receptive to our change.
Our relationships have developed patterns. The world works a certain way. Most of the patterns aren't even conscious, but they are there.
So when we make a change in a relationship we throw the pattern off. We upset the apple cart. We mess with the way the world works. The stars that used to align don't anymore.
It's not the other person's fault. They are just used to things the way they are. Our changes cause anxiety. Even if the person would eventually like the change, they often don't receive it initially.
So what do they do? They react. Harriet Lerner, psychologist and author, describes this as "the countermove."
The countermove can be passive, like a cold withdrawal, or it could be aggressive like a threat to end the relationship. It might be overt or it might be covert. Countermoves come in all shapes and sizes.
Look at how your relationships have changed in the past and you will see countermoves everywhere. Our relationships like the status quo. But the status quo doesn't lead us to the life we want to live.
Two things to consider when you see the countermove:
The countermove is designed to end our attempts to change.
Our job isn't to stop countermoves.
Our job is to keep clear about our own position in the face of a countermove–not to prevent it from happening or to tell the other person that he or she should not be reacting that way. Harriet Lerner The Dance of Anger.
This isn't easy. But it is helpful to expect a countermove. When we are aware it is coming, we are less likely to overreact or be thrown off course.
Instead we can ground ourselves and remember it is part of the process of change.
/*?>*/?>