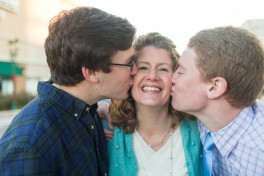 My two oldest sons turned 21 and 18 in the past 6 weeks.
Besides living in pure denial about being the mother of two kids that old, I've also been sad as I watch the passage of time. I don't like feeling sad. My default is try to push away the sad feelings and "manage" how I feel.
There is more than just the sad feelings. I'm exceptionally proud of my adult sons. I'm grateful for each of them.
I love watching my kids' lives unfold as they mature. I'm enjoying the increased freedom I've gained as they become more independant. I'm able to do things now that I couldn't ten years ago. I value that after years of being more in demand when they were young.
I also enjoy the deep connection I feel with them as adults. With both of my older sons, I love hearing about their lives and the things that they think about as they mature. They are both thoughtful, caring men.
But the sadness lingers. I know where it comes from. I've never liked change. Change often brings sad feelings.
The sadness is also about endings. I called the doctor last week and they couldn't give me my 18 year old's immunization records without his permission. Don't they know I'm his mom!
There's more significant endings: like not living in our house anymore. Or sharing my sons as they date significant others.
I'm learning how to go from being a mom of kids to a mom of adult kids. That change causes tension at times and opportunities for growth for me and for my kids. Sometimes that growth is bumpy and messy. Sometimes it's smooth and fun.
But whether I like change or not, there will be change. And whether I like endings or not, there will be endings. As much as I want to hang on to what has been, what has been is no more.
Like the seasons of the year, seasons of life end. We let go and walk into new seasons. I don't know what the next season will look like or if I'm ready for it.
Some changes come by choice. Some come regardless of what we choose.
The real issue is how I deal with the change. For now I'll allow myself to experience the sadness and the joy. I'll look forward to the next season, even with the tension that it will bring.
/*?>*/?>