The Superbowl, Agility, and Life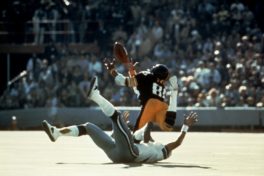 I've always loved one thing about football in particular: the agility it takes to make a great catch. I love seeing athletes stretch, hustle, and pull down an amazing catch.
This one is from Lynn Swann in Superbowl X. Being agile is good for receivers.
Agility is also good for the rest of life.
Dr. Susan David, Harvard Medical School's Cofounder of the Institute of Coaching, is leading her clients to embrace agility as a means of growth and success. She's not talking about physical agility. She's talking about emotional agility.
Dr. David outlines four ways to develop emotional agility:
Showing Up: moving toward difficult feelings with openness and curiosity, instead of avoiding or denying them.
Stepping Out: mindfully observing our internal process without getting caught up and swept away by our thoughts and feelings.
Walking Your Why: knowing and letting what we care about really guide our choices.
Moving On: making small changes in our behaviors that move us in the direction we want to go.
Those who grow develop emotional agility that serves them like physical agility serves pro athletes. It takes practice, but we can develop skills to be agile.
/*?>*/?>