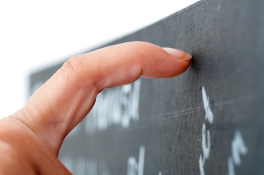 We all have things we don't want to do.
Sometimes they seem big:
changing careers
stopping smoking
losing weight
changing a significant relational dynamic
breaking a lifelong bad habit
Sometimes they seem small:
getting out of bed
exercising regularly
flossing
laundry
random paperwork
There are things on both of these lists that I avoid. I keep waiting for magical motivation. I keep waiting to feel like changing those things. It just feels better to not change. But maybe tomorrow I'll wake up feeling motivated!
Reality is that I'm not going to suddenly start feeling motivated to do these things.
In any area of your life that you want to change, there is one fact that you need to know. Just one: you are never going to feel like it. Mel Robbins, CNN Contributor, legal analyst, and author of the bestselling Stop Saying You're Fine.
The truth is if I wait to feel like it, I'll be waiting for a very long time. I won't change without discomfort. You won't either.
Robbins suggests a solution:
Force yourself out of your head, past your feelings, and outside of your comfort zone.
Rather than wait for motivation to do the things I don't want to do, I'm asking myself this question:
What's worth doing that will take me toward the life I want to live, even when I don't feel the motivation to do it?
/*?>*/?>