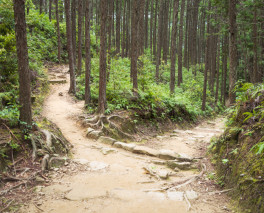 All marriages start the same. The particulars will vary, but the story goes something like this:
Couple meets.
They are attracted to each other.
They connect and accept each other.
They are in love.
They decide to marry and live happily ever after.
The marriage start story is pretty simple. Of course, there are lots of details in between, but most can relate to the start story.
But once married the path splits. There are three paths marriages take from there. Sometimes quickly, sometimes slowly:
Some couples see marriage as an opportunity to grow. These couples thrive over time. Not quickly, but over the long haul.
Some couples just stay stuck. They fight and argue over and over around the same issues. They don't move forward.
Some couples split emotionally or physically. They terminate the relationship, either legally or emotionally.
No one goes into it thinking they want to stay stuck or split. But your relationship will take one of these paths. There aren't other options.
None of the paths is easy. But the first is the only one that leads to the life you want to live.
See your relationship as a mechanism to cause you to grow and you'll begin to see your marriage in a different light. It will take work on your part. But the alternatives are often even more painful.
/*?>*/?>