The Willingness To Stretch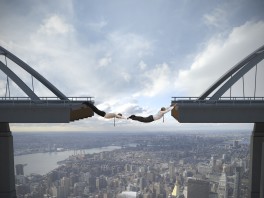 We all are wired in certain, unique ways. We have traits that are just part of who we are: introvert/extrovert, free thinker/rule follower, people person/data person, etc.
We arrange our lives around how we are wired. We are comfortable in our own skin when we are operating in the way we are wired.
Then something strange happens: even though we aren't wired for a certain thing, we suddenly are willing to stretch.
We hate public speaking but find ourselves speaking on stage in front of an audience.
We have never wanted to create a spreadsheet but find ourselves developing a budget using one.
We dislike social situations but find ourselves networking at dinner parties.
We get anxious traveling but we are find ourselves flying around the world.
What happens that makes us willing to stretch so far outside of our comfort zone? We find something that trumps our natural wiring.
The public speaking event is to communicate on a subject that we are passionate about.
The spreadsheet is for a non-profit that's solving a problem we care about deeply.
We realize that if we are going to grow our business we are going to have to expand our relational landscape.
We are travelling around the world because we want to adopt a child.
We'll move heaven and earth to stretch beyond ourselves if we are deeply committed to the reason we have to stretch.
If you want to stretch beyond where you are now, you will need to find a reason for you to move outside of your comfort zone. What is that for you?
/*?>*/?>