Threat Reponse vs. Challenge Response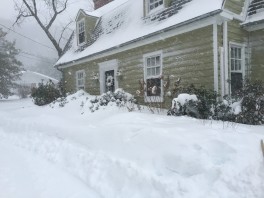 We survived the deepest snow in the history of Baltimore. At least the deepest on record.
I'm worn out. Shoveling, digging out cars, being out in the cold, all leave me tired but contented.
Ever since the first reports that this snowstorm was on it's way, I've tried to pay attention to the way I talk to myself about it. It has been an experiment to notice my internal dialogue about a disruptive event that I had no control over.
My mind loves to find problems and threats. It says:
"you'll be stuck at home"
"you will run out of food"
"your whole schedule this week is going to be screwed up."
"it will take us a week to dig out"
I can go down rabbit holes of unhappiness if I let myself. That's my mind when it is in threat response mode.
But according to Kelly McGonigal, author of The Upside of Stress, our minds actually are smarter under stress. We can embrace the challenge response.
When you have a challenge response the brain and body actually shift into a state that gives you more access to your resources. Kelly McGonigal, author of The Upside of Stress
And we can actually learn to embrace our challenge response. When I let myself embrace the challenge I begin to see the upside:
I had a weekend alone with 3 of my favorite people in the world: Riley, Seth, and Greg.
I was able to embrace beauty that is only rarely seen in our environment.
We hunkered down and made some great meals together (in the normal hustle and bustle this is a rare treat)
Shovelled outside with our neighbors that we don't often interact with.
We watched some movies we have wanted to see together.
In the grand scheme of things, I had a great weekend. But I had to shift my mind to embrace the challenge response.
Tired and sore, but with a happy heart. Bring on the next challenge.
/*?>*/?>