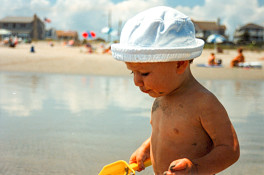 We pulled into Stone Harbor at 3 a.m. this morning after a hectic day. Two of the kids arrived home from camp later than expected. So our already late departure was then very late.
I first went to Stone Harbor in 1990. I was single, young, fresh out of college, and the world was in front of me. This is my 25th summer in a row.
I love Stone Harbor. There's the ocean, sand, beautiful houses, meticulous landscaping, quiet streets, and a quaint downtown shopping district. If there is a Mayberry of beach towns, Stone Harbor is it.
Each of my four children napped as babies on the beach at Stone Harbor. Each has ridden bikes all around the island. Each took first steps on any beach at this beach. Each has body surfed, built sandcastles, soaked in rays, and ventured around town as awkward teenagers going to the movies or just walking up and down 96th Street.
Our family vacation is the one time a year I can count on being with my brother and his family. It's the one time of year I can count on all of my kids being together for at least part of the trip. It's the one time each year where Greg and I simply try to relax together for an extended period of time. It's the one time of year I can just sit on the porch and have breakfast with my parents.
This time of year is a marker for me. Before we arrive I anticipate the experience. I think about how it is today and how it has been in the past. What is the same, and what might be different.
There are some things we always do in Stone Harbor. We get ice cream at Springers. We have breakfast one morning at Uncle Bill's. We go to Ocean City New Jersey for my favorite pizza, Mack and Manco's (I know, they changed the name; but it's still Mack and Manco's to me). We ride bikes. We go for walks. We gawk at the new things that were built over the last year.
But Stone Harbor is more than a vacation. It's a kind of New Year's for me. I reflect on where I am in life. I consider what has happened in the past year. It's easier to relax and rest from the day to day grind. Sometimes I grieve something that has happened in the past year.
It's a holy place and a holy time for me.
It's also a time to dream. I dream about things that I want to change. I dream about the what ifs of the future. I hope and aspire at times.
Many of my biggest changes in life started as a twinkle of an idea on the sand of Stone Harbor.
I have no idea what the future holds. But there may be some seeds of change planted for me in the next two weeks.
Whatever you are doing this summer I hope you carve out time for your own Stone Harbor. May seeds of change be planted in your life and mine as well. May we grown more into the people we want to be and move toward the life we want to live.
/*?>*/?>