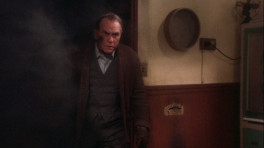 After 17 years of struggling with an old, inefficient oil heating system, Greg and I finally decided to replace ours last fall. With the old system, we spent a small fortune on oil as prices crept up over the years. It had a terrific knack for breaking just when it got really cold. It was loud and sounded like a train was going through the house when it ran.
So with lots of excitement (as much as you can have with HVAC) we had the old removed and a new system installed. Along with that came central air so we could get rid of our window units. The new system gave us the ability to adjust the temperature in every room independently.
It's great. Until it gets REALLY cold. Then things aren't so great. In fact this last week things got really bad. It was 50 degrees inside and I was frustrated.
Greg and our HVAC contractor have been working on it. We had one of the units replaced, we had new spray foam insulation installed. But it was still cold. Installing the insulation made a mess. Our house was a wreck for a couple of days.
So Friday morning, Greg and I were cleaning up mess, cleaning out boxes that were in our attic, cleaning up oil stains that had been tracked around the house, and generally trying to restore sanity to our lives. And it was still cold. This wasn't what we had scripted for the week.
But in the midst of the chaos I was struck by one thought in particular: going through this earlier in our marriage wouldn't have gone so well.
Don't get me wrong, I was frustrated and voiced my frustration. Greg was frustrated and voiced his frustration. I felt like I wasn't being taken seriously. He felt like I wasn't appreciating what he and the contractor were doing to solve the problem.
But in the midst of that, there were some small differences with how we handle things now that wouldn't have happened early on in our marriage:
We were both able to voice our frustrations, concerns, and emotions about the issues.
We were able to laugh at (and with) each other at times.
Even though we were frustrated we didn't turn on each other, we knew we were on the same team and wanted the same thing.
I wasn't seeing his efforts as a measure of how much he loved me.
He wasn't seeing my frustration as invalidation of his ability to handle the situation.
I can't explain all of how we got here. But I do know this:
Time provides a great opportunity to grow.
Early on, we needed to grow. We needed to mature. We needed to learn to accept responsibility for ourselves. We needed to know that stressful situations aren't the end of the world, and they won't stop happening.
Time has given us the gift of growing to be more mature individuals, and have a healthier marriage. We have a long way to go, but we still have time.
/*?>*/?>