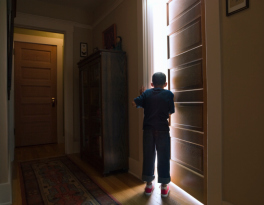 There are two kinds of curiosity most of us have when we are anxious or depressed.
There is "why" curiosity:
Why am I the way I am?
Why does this always happen to me?
Why is the world like this?
There is a time and a place for why.
But much of the time asking "why" about an internal struggle involves judgement and self criticism. Unhealthy "why curiosity" can lead us to ruminate on the wrong things and stay stuck.
The other kind of curiosity is "how, what, when, where, who" curiosity. This curiosity is specific. This curiosity is more like a scientist and less like a philosopher. This kind of curiosity is not judging ourselves, it's offering help. This kind of curiosity says "it doesn't matter why right now."
This kind of curiosity asks:
When did I start feeling anxious around this issue?
Where do I feel depression in my body?
How am I going to react to these feelings?
Who am I thinking about when I am anxious or depressed?
What happened before I felt this way?
Next time you are anxious or are having uncomfortable thoughts, try moving from "why curiosity" to "how, what, when, where, who curiosity."
You may be surprised how helpful your curiosity can be.
P.S. For more on the research behind "why" this is true check out Ed Watkins research. Here's a glimpse: http://www.psychologytoday.com/blog/mood-thought/201307/helpful-repetitive-thinking-in-depression
/*?>*/?>