Understanding In Vivo Exposure Therapy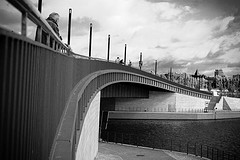 For some anxiety disorders, in vivo exposure therapy, can be extremely helpful. In vivo exposure therapy is when a client gradually faces the thing or situation that they fear. Over time, this therapy often helps change the clients response and helps them learn to relate differently to their anxiety around the fear.
Take, for example, a person with a fear of bridges. Client and therapist develop a hierarchy of bridges, starting with the least anxiety producing bridge to the greatest.
Depending on the level of anxiety that a person is facing a client may start by doing some imaginal exposure where they look at pictures of bridges or mentally picture themselves driving over a bridge. Then slowly they begin to regularly practice crossing a bridge that is lowest on their hierarchy, observing and allowing the anxiety they experience to be there. The therapist is with them helping the client to face his or her fear and learn how to address the feelings and sensations that are happening inside of them. Over time and with repeated practice the way the client relates to the anxiety they experience shifts inside of them. It is not so much that the anxiety completely disappears, but that the client now has a different response to those really uncomfortable sensations in the body. This shift allows the client to continue to be willing to face those feared situations rather than avoid them.
Doing what we fear is hard work. Clients who move toward what they fear demonstrate great courage.
Often people have avoided what they fear for a long time and as a result their worlds have gotten smaller. Being with someone as they take steps to face a fear is a privilege to witness.
In vivo exposure therapy can help clients deal with many anxieties including fear of public speaking, fears around social settings, contamination fears, and many more.
/*?>*/?>