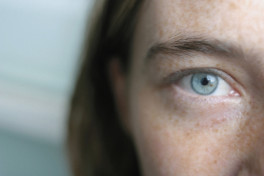 I like ideas. I like concepts. I like to read and digest information. Information is a good thing.
But when it comes to change, information alone is not enough. We often have the information we need to change. In our current culture we may even have too much information.
Smokers rarely need more information about how damaging cigarettes are to help them quit. Alcoholics rarely recover because they hear a lecture about alcoholism. People don't often lose weight because they learn more about the science of weight loss.
Information may be helpful. But it is rarely enough to inspire us to do what is necessary to make significant changes.
If you can start with vision, then utilize information, you set the stage for growth.
Give the smoker a vision of life without cigarettes and they will find a way to put down the cancer sticks for good. Give the alcoholic a vision of life free from booze and the wreckage that comes with it and they will find a way to get sober. Give the obese friend a vision of life that is healthy and active and they will find a way to drop weight.
When we have a picture of who we want to be we will find the resources we need to change. When you see a compelling picture of a future you without cigarettes, alcohol, or obesity, you can begin to make serious changes.
What do you want to change? What is your current vision for life in this area? Can you see a future you that has changed and grown in this area?
/*?>*/?>