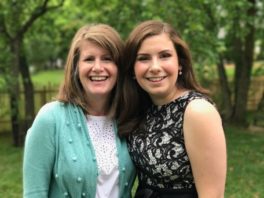 Last Sunday, we celebrated Riley's High School Graduation surrounded with family and friends, hers and ours.
I was reminded of June 3, 2011 when we celebrated our oldest son, Caleb, graduating high school. That seems like yesterday.
Time passes fast.
Friday, we watched Riley go off to the prom with her date and friends. She was just a little girl not long ago. Now a young woman.
It's bittersweet watching growth. There are big changes ahead.
One of the things we did for the party was find old photos of her at different stages of life. Each brought back new memories of a stage of life: Riley's stage and my own.
I've loved each "version" of Riley as she has grown up. They haven't all been easy, but I've found with all of our kids that the challenging memories tend to fade. I hope those memories fade for them as well.
Then I am left with the gift of watching another child mature, grow up, and become herself. In the ongoing process of watching Riley become her best self.
There is much more change to come. But for today, on a memorial day weekend, I'll savor memories and memorialize my daughter.
And I'll look forward to more maturity, change, and growth to come. In her life, and my own.
/*?>*/?>