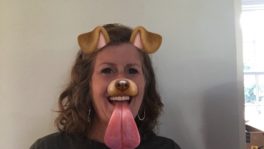 I grew up in a family of four with one younger brother, Eric.
As young kids Eric was my buddy, my friend, my playmate. We spent many hours of time together growing up.
He's also one of the funniest people I know.
As adults, I've stayed in Baltimore and he has lived in Florida for the last 20 years. So we don't see each other all that often. But we do usually get the better part of two weeks together when our families all go to the beach together.
I love that time. And one of the reasons is because I laugh so much. Eric is always making all of us laugh. He's silly and goofy, he talks in funny voices, he repeats funny phrases over and over. One summer he said "brown chicken, brown cow" about 100 times a day and we all laughed about it over and over. It wouldn't be funny to another living being, but it was hilarious to us.
The laughing brings our family together. It connects us. It reminds us not to take life too seriously.
I value that. It's a simple thing, but too often I find life can go on without laughter. There is a lot in life to take seriously. But not too seriously.
Wear the world as a loose garment, which touches us in a few places and there lightly. St. Francis of Assisi
This summer, after we left, we've kept the humor going sending each other silly faces on snapchat. It isn't the same as face to face, but it has kept us in touch more than normal. And brought us closer to our Florida family, even when they are 800 miles away.
I want to cultivate and value laughing, humor, and playfulness in my life. I'm more present, less burdened, and more able to care for those around me when I don't take things too seriously.
The garment feels looser.
/*?>*/?>