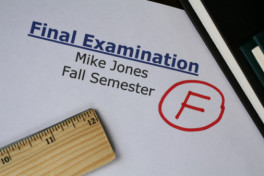 I avoid taking risks. I'm afraid of failing. There, that cat is out of the bag.
Some of my fear is because of how I am wired. But a lot of my risk aversion is because I have to face one of my deep dark fears when I fail. The deep dark fear is that I don't have what it takes. So I avoid taking risks because I'm afraid I'll fail and if I do fail that means I am worthless. My ability to succeed directly impacts my self worth.
Carol Dweck, a Stanford University psychology professor, would say my problem is that I have a "fixed mindset" instead of a "growth mindset."
Fixed mindset people think that abilities and talent are set. Everyone has a certain amount and they do what they can with what they have. These people tend to pick activities where they know they will succeed. If there is a high risk of failure they'll avoid the activity.
The fixed mindset leads to avoidance of risk and procrastination.
Growth mindset people believe that abilities and talents can be developed and will change with practice and effort. They take risks because obstacles are opportunities to grow and get better. Failure isn't a statement about them. It's the cost of growing and getting better at something.
The growth mindset leads to improvement and mastery.
Generally, we have a tendency toward one or the other. And we can have both tendencies depending on what discipline we are talking about. For example, I may have the fixed mindset about musical ability but the growth mindset toward athletic ability.
But here is the personal challenge: what changes in our lives when we see potential failure as an opportunity to grow rather than a statement of our worth? What are we missing out on because of our fear of failure? What comes to your mind first when you think of fears that are holding you back?
I want to be willing to get out and fail more often. I'm only holding myself back if I don't.
/*?>*/?>