Wise Technology Parenting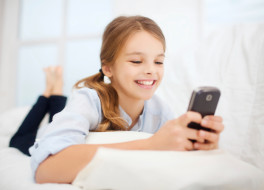 My parents had pretty simple technology issues to address with my brother, Eric and me: how much time we spent in front of the TV, how much time we spent on the phone, and how loud we played cassette tapes on our tape decks.
Things were simpler on the technology front in the 1970s.
Today many parents feeling disadvantaged in addressing technology with their kids. Even if we try, there are so many options available to our kids digitally that it is hard for us to keep up.
Many never try.
My husband Greg, works in technology, and digital mediums every day. He describes three types of technology users: digital natives, digital immigrants, and digital ignorants.
Our kids are natives. Most parents are immigrants. Some parents are ignorants.
Here are four ideas for digital immigrants learning the native language:
Choose to view technology as an opportunity not a threat. Viewing technology as a threat makes technology the enemy. On the other hand, viewed as an opportunity technology is a new frontier for us as parents. We can let our kids be the experts and teach us. We can ask questions and engage. We can step out of our comfort zone and learn. Being users of the technology helps us learn the new world we live in.
Look for the good things to celebrate with technology. Much of what kids are doing online is both well intentioned and what we were doing as kids. It just looks different. I spent hours on the telephone talking with friends. My kids stay in contact by texting. We all want to connect. Connecting in relationship is a good desire.
Setup wise guidelines and then reward your kids when they show maturity. Kids need limits. Limits allow kids to mature and become adults where they regulate themselves. In our family, Greg & I have their passwords when our kids begin using the technology. We also make it clear that they are not to delete messages from their phones. Trying to keep a password from us or deleting messages will result in the loss of privileges. We've also tried to be wise about when kids begin using different social networks. Snapchat may make sense for a high schooler who is showing maturity, but not for an immature middle schooler.
Create an environment that promotes the healthy use of technology. Share photos with each other, use texts to keep in contact with kids, use the platforms that they use to engage them. One of our kids found it easier in middle school to talk about sensitive things via text, than embarrassing face to face conversations. You don't want to miss out on conversations you wouldn't otherwise have because you weren't present in a way that kids could access you.
Does following these principles guarantee that kids won't get in trouble with technology? Absolutely not. But it does communicate that we are paying attention, that we care, and that our expectation is that they learn to be wise in how they use technology.
Our goal is to have healthy relationships with our children. We can't do that if we speak different languages. As immigrants, it isn't our kids responsibility to learn our language. It's our responsibility to learn theirs.
/*?>*/?>